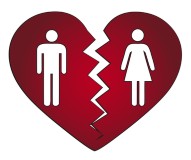 Estimated reading time: 25 seconds           
The financial fallout of divorce extends far beyond legal costs, alimony and child care expenses.
In addition to finding a new place to live, people displaced by divorce must deal with a wide range of financial and tax considerations, even when no children are involved.
Many people are unaware that getting divorced will revoke the gifts in the will which are left to the divorced spouse and any appointment of the spouse as executor is also revoked.
The will is read as though the divorced spouse had predeceased the deceased spouse.  Upon marriage,  a will made prior to the date of marriage becomes invalid (unless the will is expressly made in contemplation of marriage).
So after a divorce, if the spouse re-marries, they need to update their will, or make one in contemplation of the remarriage.
Divorced clients are usually shocked to learn that roughly half the money they have accumulated in RSPs promptly goes the tax department when they die (unless they make other arrangements).
My recent article in The TaxLetter® identifies the tax challenges and estate planning issues that arise when 'happily ever after' becomes 'unhappily outta here'.
Please share it with friends and family members touched by divorce.
My team of advisors is available across Canada to answer questions and help preserve what you have worked for.
Please be in touch if we can help you.
Call me toll-free at 1-866-566-2001 or send an email to info@WEALTHinsurance.com
I look forward to helping you.
Stay healthy